Winner of the World Trophy for Responsible Tourism
Dining in Agadir under the stars
The lunches or dinners at the Atlas Kasbah Ecolodge restaurant offer the opportunity to discover the authenticity of Moroccan cuisine thanks to seasonal products with nutritional benefits preserved for the health and vitality of the body. We also offer vegetarian cuisine on request (varied vegetarian menus).
Local Moroccan products such as argan oil, acacia or mountain carob honey, a goat cheese from women's cooperatives, the exceptional taste of olives and freshly harvested fruits from our retreat, wild almonds growing in the Atlas mountains, a barley couscous traditionally prepared by women, vegetables grown in a preserved land, here is the culinary experience offered at the Atlas Kasbah Ecolodge restaurant to feed all the senses.
Restaurant for the inhabitants of Agadir and non residents at the Kasbah
The restaurant of the lodge and its terrace with the view of Agadir in the distance also accentuate the escape thanks to the magic alchemy between this gastronomic stroll with a thousand and one flavors and the pleasure of the eyes. Indeed, the view embraces the Atlas Mountains rising around. This combined with the mesmerizing colors of the mud on the Kasbah give an unequaled atmosphere to this timeless place.
Introduction to Moroccan cuisine
if you are a lover of exotic cuisine and have always dreamt of learning the skills of a great chef, we invite you to join us in the kitchen of the Kasbah. The exquisite and highly creative dishes and the local specialties, are yours to learn how to cook., As Paul Gauguin once said, "Just bring a light mind, a generous spirit and a big heart", From the careful selection of ingredients to the mastering of techniques, you will learn it all.
NB: the ecolodge does not have an alcohol license but it is possible to buy it at the supermarket in Agadir, 5 minutes by car and consume it at the restaurant of the ecolodge.
Also, if you want to have your dinner in a restaurant in Agadir, please note that we close the gate outisde the ecolodge at 11 p.mh.
Atlas Kasbah has been a committed member of the climate-friendly menu initiative ever since it was launched by the Sustainable Tourism project of German development agency GIZ and the Moroccan High Commission on Water, Forests and Combating Desertification.
The principle is to offer diners meals with at least a starter, main course and dessert that meet the following three criteria :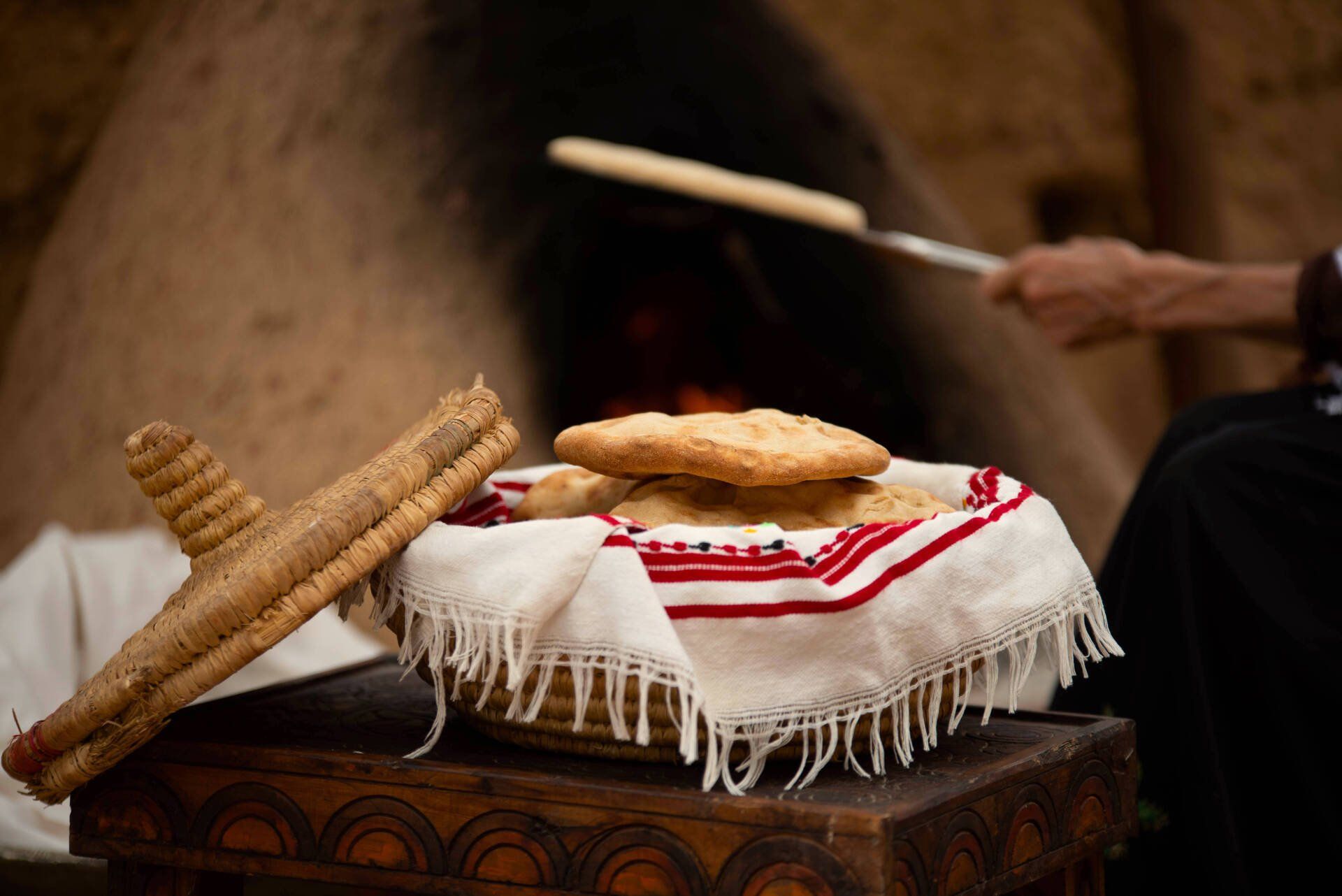 Why adopt a climate-friendly menu?
Adoption of a climate-friendly menu offers several advantages, in particular improved traceability of products and formation trust relationships with suppliers ensuring better product quality. Furthermore, it means contributing to protecting the environment via concrete action against climate change.
Download the free booklet "recipes good for the climate" in hotels in Marrakech and Agadir.